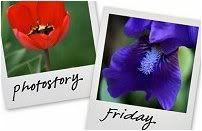 Hosted by Cecily and

MamaGeek
When our daughter Laura got married three years ago, she and her husband Darren moved east to Vermont, where grandson Diederick and granddaughter Carly were born. The times we saw one another were few and far between.

Just recently Laura, Darren and kiddos have moved to our 'neck of the woods', much to our joy. I'm enjoying the sweeties here and now.

During those three long years, how did we stay in touch?

By phone? Not much. Neither Laura nor I are big fans of spending time on the phone.

Writing letters? Beyond the birthday cards and gifts that crossed the country, No.

I'll admit we did chat online, but that wasn't the best of it.

During those years, I got to 'see' the daily goings-on of the little family, thanks to my daughter's diligent posting on her blog. I would comment on the pictures and running commentary of their days, and Laura would read my blog as well, keeping track of the goings-on in her younger siblings' lives. I was a 'virtual' gramma. Not quite the same as a gramma 'in the flesh', but still I know I was blessed.

Now that Laura and Darren and family are here, we enjoy our times together, but those blogs are still very important to us. We comment back and forth, and chronicle our days. It's still a great way to keep in touch, on a level to which we have become accustomed.

The blogging buddies reunited