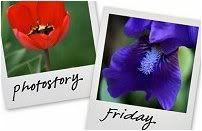 Hosted by Cecily and

MamaGeek
Well, here I am, one day late for PhotoStory Friday. My internet connection is to blame; it's been on-again, off-again, and very slow during the rare times when it's been on. However, I'm able to read my mail just now, so I'm going to attempt a blog post.

The following photo was taken only eleven years ago. These are the three youngest children in our family, posing with three of the puppies Lassie mothered in her young-doggie-hood days. You see the young man on the right? He is now approaching six feet tall, plays football, and enjoys composing love song lyrics. The two young ladies are now 16 and 15 years old, hard-working girls at home and at school.
Where did the time go?

That's my story. Or advice. Enjoy your children now, because "now" is going to fly by so quickly, you'll just wonder where the little people days went.

Here's a photo taken this summer. Older sister Kayla is included in this picture as well.
I found a new group in which to include this post: