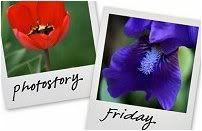 Hosted by Cecily and MamaGeek
(This photo is of my mother-in-law holding her dear little great-granddaughter. I think the following tanka goes along with the photo nicely.)


True satisfaction


The fruit of a life well-lived,


Problems faced bravely


During life's fleeting seasons


Yield this abiding, sweet fruit.


These three tankas are a response to the prompt "Fleeting" given at One Single Impression. Please visit the site to learn more about participating, and to read more poetry!
Oh! I'm also participating in something new to me called Photostory Friday.Perhaps you would like to participate, too?