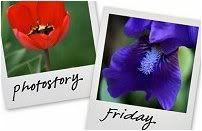 Hosted by Cecily and MamaGeek
In this photo, taken about 16 years ago, our twin daughters, Sarah and Laura, are about seven years old. Off camera to the left is our oldest child, 9 years old at that time, and Debra sitting on the cushion, about two years old. The girls are stacking cloth diapers for baby Rebecca, who is child number seven. That's right; when my oldest child was 9 years old, we had seven children, and I must say, though we were all busy, we enjoyed ourselves very much.


I am full of a tumble of thoughts, wishing I could explain in very few words (so as not to bore you) exactly what it was like, and why the children were helpful, obedient, creative and kind to one another. It took a lot of planning, persistence and hard work on my husband and my parts to accomplish this, and yet we enjoyed the children ever so much.


I am especially thankful that these "little people years" were home school years. Our schedule was unhurried. There was plenty of time for adequate sleep, for doing animal chores, for helping around the house, for playing outside, and for reading books together.


Here is a link to a little something I wrote when I first began blogging that explains some of my thoughts about interacting with the children. Here are some of my thoughts on encouraging creativity in children. As long as I'm at it, here are some things I appreciate about my family.