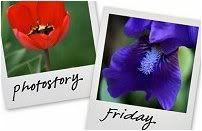 Hosted by Cecily and MamaGeek
Certain members of our family have really been enjoying our unusually chilly, snowy weather.

For one thing, we have the TIME to enjoy the snow, since the children have been out of school since December 18th.

For another thing, my husband enjoys using what we have on hand to create new playthings. Viola! We now own a homemade toboggan, which has made many runs down the steep slopes of the abandoned gravel pit down our road.

For yet another thing, our two-and-a-half year old grandson LOVES the snow. Those of us who aren't too wild about the cold white stuff get a lot of enjoyment from seeing him have fun, and from looking at the cute pics his mommy takes of him.

That's my story. SNOW. We have it. We have had it for two or so weeks. The children wish it would just keep falling.

Here is my husband with his newly-crafted toboggan.
Do you see the bald eagle? We have so many of them around here. And, OOPS, I just realized that I didn't post any pictures of our grandson in the snow. I'll do that tomorrow. Thanks for stopping by. 🙂