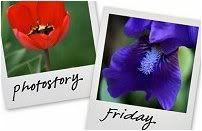 Hosted by Cecily and MamaGeek
Today I had to come home two hours early from the school, due to coughing fits. I didn't feel all that bad, but I couldn't keep running out of class to cough.

Once I got home, stopped talking so much and had a couple hot drinks, I felt much better.

I called over to our daughter and son-in-law's place to see if one of them could go to the fundraiser dinner at the middle school tonight in my place. Rick and I were scheduled to attend the 7pm sitting of the crab feed, but no way am I going to something like that when I might need to run out of the room to cough. Turns out Laura will be able to accompany her dad, and get to hear Seth sing as part of the entertainment.

When Darren heard that I wasn't feeling well, he asked, "You need some homemade chicken noodle soup? I made some." Before I knew it, Darren was at our place, container of soothing soup in hand.

It was delicious. Hearty. Warming. Soothing. It's another recipe Darren learned from his dad, but this time he didn't share the recipe. All I have is this picture for you of Chicken Soup for the Sick Person's Soul: