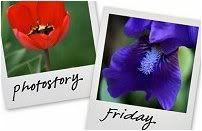 Hosted by Cecily and

MamaGeek
I almost didn't get to publish a post this windy evening. The power went off at about 8:30 this evening, along with our water. When I called Puget Sound Energy to record the outage, the recorded message let me know that power was off in scattered areas over a four-county area. It sounded serious to us, so after a brief time spent playing Pente by some and reading by lantern-light by others, we all decided to go to bed.

Just as I was about to turn off the lantern, I noticed a glow from downstairs; sure enough, the power was back on. That meant just one thing: I could still publish a blog post tonight!

My plan for today was to publish this 78 to 80 year old photo of my mom and her brother for Photostory Friday, so I'll go with that. This photo was taken probably between 1928 to 1930, in Phoenix, Arizona. Don't my mom and her brother look cute, two happy kids playing together?
I love this beautiful glimpse into the past, but it gets me thinking about life's brevity. At one time they were carefree children, living like there was no tomorrow, but now both of these folks are very feeble and elderly. Many of their contemporaries have preceded them in death.

Perhaps because I'm tired, THAT thought reminds me of some beautiful song lyrics by Joni Mitchell to her song, 'The Circle Game' which speak eloquently of life's seasons:

Yesterday a child came out to wonder
Caught a dragonfly inside a jar
Fearful when the sky was full of thunder
And tearful at the falling of a star
Then the child moved ten times round the seasons
Skated over ten clear frozen streams
Words like, when you're older, must appease him
And promises of someday make his dreams
And the seasons they go round and round
And the painted ponies go up and dawn
We're captive on the carousel of time
We can't return we can only look behind
>From where we came
And go round and round and round
In the circle game.
Sixteen springs and sixteen summers gone now
Cartwheels turn to car wheels thru the town
And they tell him,
Take your time, it won't be long now
Till you drag your feet to slow the circles down
And the seasons they go round and round
And the painted ponies go up and dawn
We're captive on the carousel of time
We can't return we can only look behind
>From where we came
And go round and round and round
In the circle game
So the years spin by and now the boy is twenty
Though his dreams have lost some grandeur
coming true
There'll be new dreams, maybe better dreams and plenty
Before the last revolving year is through.
And the seasons they go round and round
And the painted ponies go up and down
We're captive on the carousel of time
We can't return, we can only look behind
>From where we came
And go round and round and round
In the circle game