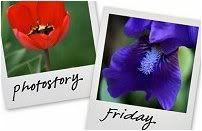 Hosted by Cecily and MamaGeek
We are enjoying a quiet, laid-back day here today, after the busy Thanksgiving day activities yesterday. I've made coffee about three times for our crew, all of whom got up late, at different times. The apple pie and apple crisp are now finished off, and a few of us have had lunch.

I've been enjoying myself, visiting many friends' blogs, reading my Bible at Blue Letter Bible, and chatting with my husband. He just reminded me of all the WORK I wanted to get done today, too, so I'll quickly post my Photostory Friday.

Our daughter and son-in-law, who have been staying with us after moving here from Vermont, have secured a great place to rent, close to friends and work. That means that very soon, we will no longer have the pleasure of live-in grandchildren.

In honor of the little sweeties, whom I enjoy hugging and kissing, here are a few pics for this week's post.

Left to right: Granddaughter Carly, Grandson Diederick – looking very solemn (the poor guy's been feeling under the weather) – and daughter Sarah (twin sister to Laura, Carly and Deeder's mom) in the very corner of the photo
To participate in Photostory Friday, click on the button at the beginning of this post for all the info. you need!