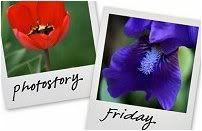 Hosted by Cecily and MamaGeek
Ya know, there's a lot to be said for bonding with a child.


When you hold a child, give him or her kisses, talk to them, and give them food and drink when they need it, you just care about them more, somehow. The more you interact with the kidlet, the funnier and more endearing you find them.


For the past three years our daughter and son-in-law lived clear 'cross country from us. I got to see lots of pictures of our grandson and granddaughter, but didn't know them the way I do now, when they're right here with us.


So that's what I have for Photostory Friday: some cute photos of these cutie pies with whom I have been bonding.

Diederick loves to play outside, and go on walks with his mommy and me.
Here's baby sister Carly, all bundled up for a walk, too.
Here's Carly once again, lounging in the sunshine.
Here I am, holding Deeder. He is probably asking to see images of cows or dogs on Google Images.
Last picture: Our cat GiGi enjoys Carly's play mat.
To participate in Photostory Friday, click on the button at the beginning of this post for all the info. you need!