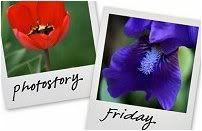 Hosted by Cecily and MamaGeek
Our dog Lassie is eleven years old. She spends most of her days snoozing in or near my husband's office while he works. Up until recently, the high point of her day has been going on her evening walk, and greeting our family members as they come home from school and sports activities.
About a month ago, our daughter and son-in-law and their two children came to stay for us for a while. Lassie has found a new meaning in life. It's true that the old doggie is still quiet, but she is quiet by our 4-month old granddaughter, Carly. It's puppy love for sure, since Lassie seems to feel responsible for Carly, and is never far from her.